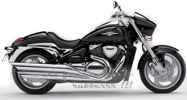 Sniegta šajā lapā informācija ir tikai jūsu informācijai. Jūs pilnībā atbrīvot myNETmoto no jebkādas atbildības saistībā ar, vai kā sekas, pretenzijas sevi un / vai jebkuras trešās personas par iespējamiem zaudējumiem nākamajos uz aprīkošanu ar riepu nav atļauta.
BRIDGESTONE E-MAX


Select only the good factors from "EXEDRA" and mix them in the best balance to provide 4 major performances, such as "Milage", "Stability of straight riding", "Handling", "Dry & Wet Grip&rdq [...]
AVON STORM


Storm 3D X-M - High performance plus extended mileage High performance plus extended mileage. The X-M version will deliver 15%-20% extra mileage compared to the current Storm range. Interlocking three dimensional points hidden in the sipes to improve [...]
BRIDGESTONE G 852 "G"


A newly developed Bridgestone motorcycle tires for heavy and powerful Tours - motorcycles. These new tires EXEDRA meet the high expectations of real Tour rider. The modern rubber compounds provide the liability and a very high mileage. To guara [...]