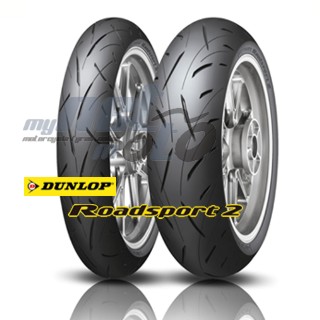 "Dunlop Roadsport 2" galima įsigyti Europoje !!
"Dunlop Roadsport 2" yra pagrįstas neutraliu įprastų produktų "SPORTMAX RoadSport" valdymu. Dviejų sluoksnių protektoriaus struktūra, sutampanti su dviejų tipų mišiniais aukštyn ir žemyn ("COMPOUND-player" veikimas), buvo pagerinta, kad pagerėtų eksploatacinės savybės ir sukibimas spektaklis.
Dviejų tipų paviršinio sluoksnio mišinys, pasižymintis dideliu sukibimu ir atsparumu dilimui, bei gilaus sluoksnio mišinys, pasižymintis padidintu šilumos generavimu, veiksmingai veikia, pagerina eksploatacines savybes ir sukibimą bei demonstruoja stabilų sukibimą iki padangos nusidėvėjimo pabaigos.
Be to, nauji profiliai ir modeliai, naudojantys unikalią DUNLOP "kamerų paskutinio derinimo technologiją", leido stabiliai valdyti.
NAUJI 2019 m
"Suzuki GSXS 1000 Katana" / "Kawasaki Ninja 650" skirtingos specifikacijos "M" "W" OE
DUNLOP ROADSPORT 2 galite įsigyti ir užsisakyti dabar lt.myNETmoto.com parduotuvėje. Akcijos kainos ✓
Taip pat rasite daug sukauptos patirties ✓ Apžvalgos ✓ Apžvalgos ✓ Rida ✓ Testas ✓ prie šios motociklo padangos.
Techninės specifikacijos

Pasirinkite Gamintojas
DUNLOP
Padangos profilis
ROADSPORT 2
Pasirinkite tipą
Sport /
Padangos dydis
priekinė padanga: 120/60 ZR17, 120/70 ZR17
galinė padanga: 150/60 R17, 160/60 ZR17, 180/55 ZR17, 190/50 ZR17, 190/55 ZR17, 200/55 ZR17
carcass
Tubeless - padanga skirta naudoti be kameros / Radial /
Speed Index
W
Loadindex
55, 58, 66, 69, 73, 75, 78
Gamybos šalis
JP
SPORTMAX Roadsport 2 is based on the neutral handling of conventional products "SPORTMAX RoadSport", two-layer tread structure overlapping two types of compound up and down ("The performance of the COMPOUND-player") has been enhanced to improve life performance and grip performance.

Two types of surface layer compound with high grip performance and wear resistance performance and deep layer compound with increased heat generation function effectively, and it enhances life performance and grip performance and demonstrates stable grip performance until the end of tire wear.
In addition, new profiles and patterns utilizing DUNLOP'S unique "Chamber last tuning Technology" have enabled stable handling performance.
10.02.2020
Dunlop Roadsport 2 new 2019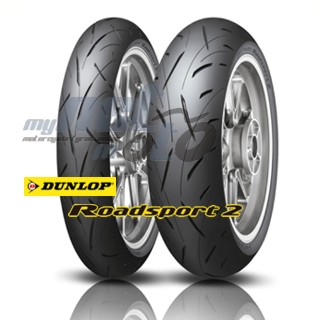 ---
10.11.2017
DUNLOP ROADSPORT 2 OE motorcycle tyre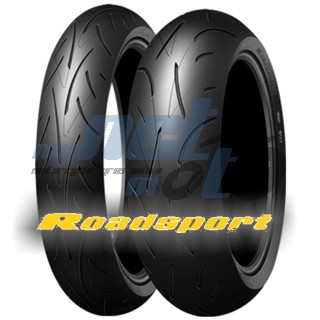 ---
kaina:
129.55

€
(įsk. PVM. Pristatymas)
kaina:
121.13

€
(įsk. PVM. Pristatymas)
kaina:
124.25

€
(įsk. PVM. Pristatymas)

Išparduota.
Jau užsisakė. Nėra pristatymo datos

Išparduota.
Jau užsisakė. Nėra pristatymo datos
kaina:
144.47

€
(įsk. PVM. Pristatymas)
kaina:
151.25

€
(įsk. PVM. Pristatymas)
kaina:
184.31

€
(įsk. PVM. Pristatymas)
kaina:
136.07

€
(įsk. PVM. Pristatymas)
kaina:
199.65

€
(įsk. PVM. Pristatymas)